At the end of April, together with Mateusz Waligóra, we plan to make Greenland Crossing. Our goal is to walk over 600 km and cross the largest island in the world from west to east. Being independent, we will walk on skis and with 60+ kg sledges each, during about 30 days. Our route crosses through the Greenland ice sheet, among the snowy emptiness, which requires relying only on our own strength.
Greenland Crossing
We have been discussing about this expedition for a long time. The first time – probably during my winter crossing of the Polish mountains. Back then, I thought about it as an interesting idea, but I didn't get attached to it. Our next conversation in September made us start moving toward this goal. A few months of preparation and planning, and it looks like we HAVE IT.
For Mateusz, Greenland crossing will serve as a test before taking on the challenge of solo walk to the South Pole. For me it will be the next step in the Arctic after the winter crossing of Iceland. For both of us it will be the first "no-solo" expedition for some years.
The interior of Greenland is a region of powerful winds and temperatures dropping to -30ºC. We enter, perhaps, the most difficult place of our lives. Into the middle of the ice void, which does not forgive mistakes and where the margin for error is very small. It will be a big test of our physical and mental strength. Verification of our winter experience and the equipment we take. For myself – the test if it's possible for me to undertake expedition with another person (first time in 12 years!). But most of all I hope that it will be a beautiful and unforgettable adventure. We will visit an unusual and inaccessible place, which for the last few years has been changing more and more along with our Earth. A place as empty as any I have visited – but also fascinating.
1888: The First Greenland Crossing
The first Greenland traverse has been done by 6-man expedition, led by Norwegian Fridtjof Nansen, in 1888. They were the first to cross Greenland ice sheet, covering about 600 km in 6 weeks.
Nansen's expedition used 5 pairs of sledges made of ash wood, assembled without nails, for flexibility. They were pulled by human strength, as it occurred impossible to obtain sled dogs. The load of each was about 100 kg. The images from that expedition clearly show its difficulty.
Next years brought Greenland crossings on other routes. In 1912 Knud Rasmussen crossed its northern part, walking 1200 km. In 1913 Johann Peter Koch and Alfred Wegener crossed the central part. The island has been crossed with the help of kites, from north to south, circled, and driven by 4×4 vehicle in 2018. Just 10 Poles have walked the route from west to east (or vice versa). The first were Marek Kaminski and Wojciech Moskal in 1993. In just 3 weeks Mateusz Waligóra and I will follow in the footsteps of our predecessors.
Expected conditions? Difficult.
This expedition should resemble my winter crossing of Iceland. We will be moving in an Arctic environment, walking on skis and pulling everything on sleds. In Iceland, however, I had rocky tundra covered with winter snow under my feet. Here we will be walking on ice, which forms the giant ice sheet, which is over 2.500 km long and up to 1.000 km wide. This time, instead of solid ground, we will have up to more than 2 km of ice under our feet, hundreds of thousands of years old. This is a completely new environment, forcing us to be humble and cautious.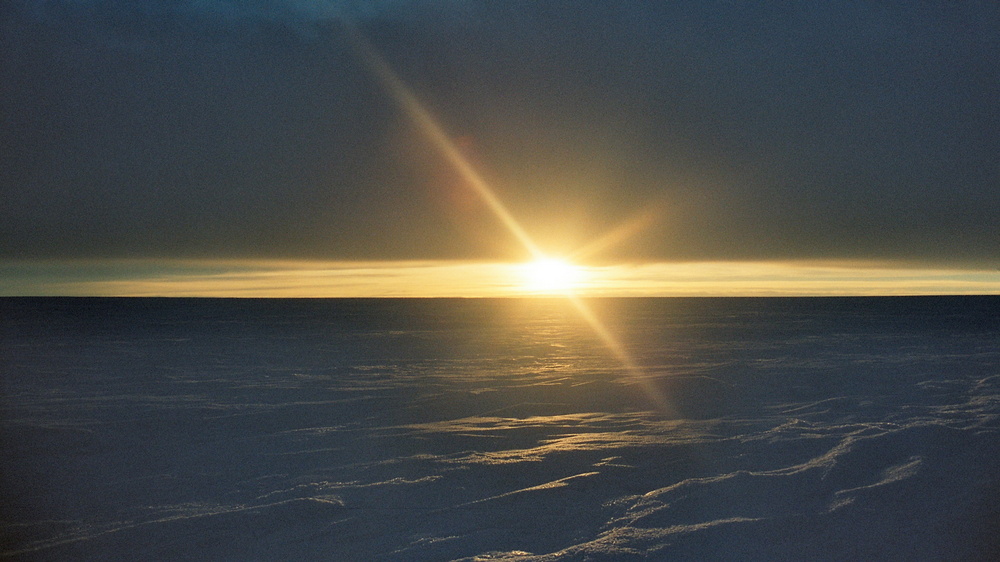 What will we find inside? Most people would say simply "nothing". There are several hundred kilometers of absolutely monotonous plateau ahead. Snow, iluminated by endless dawn. At the end of our walk the sun will disappear for less than 3 hours. We will not experience the true darkness of night even once. What will we do during this time? What we will fill our thoughts and conversations with, during hours of walking and resting? We will probably talk through our lives with Mateusz, and when we are finished, we will start sinking in a strange state of "non-thinking", similar to meditation, which I experienced during long hikes.
Most of all, I hope it will be a beautiful adventure. And one of a lifetime. It will summarize all our winter adventures: in Scandinavia, the deserts of Australia and the Gobi for Mateusz and Iceland crossing and the winter hikes in Carpathians and climbs in Caucasus and Pamir for me. This time we will create our trail entirely on our own, isolated from people as much, as ever before.
In just one month we will be in the middle of the snowy wilderness. The plan is to put about a million steps and descend safely to the ocean on the other side.
The expedition is supported by: 8a.pl, Cumulus, OM System Polska, Forma na Szczyt, Deuter Polska, This-1, Suprasat, Suunto