In autumn 2014 I've thru-hiked Iranian Zagros mountain range. 2300 km and 76 days of walk along the vast, barren landscapes in different conditions, solo. All articles and, obviously, my book about that trip, were written in Polish. This article is a brief explenation for my English-language readers about how it has been done.
After a few days of wandering through the desert province of Hormozgan and 76 days after leaving Tabriz, on the northern edge of Iran, I stood on the Indian Ocean coast in Bandar Abbas. Behind me – 11 weekes of constant walking and about 2300 kilometres on foot. When I arrived to this final point there was no explosion of happiness or other emotions however. I only felt relief that I had succeeded.
Zagros gave me everything that the mountains gives you during a long journey: there were moments of beauty and horror, moments of joy and satisfaction, and resignation, when the plan failed. Or fear. I have seen and experienced extraordinary things, and I have been moved by encounters with Zagros people. They were the real essence of this trip. They helped me on my way and host me, a lonely stranger, without hesitation showing me their vision of Iran.
Plan vs reality
The conditions, that I encountered, very often made me choose the route along valleys instead of ridges. This was caused by two circumstances.
The first one were visa problems before going to Iran. I visited the Warsaw embassy at the beginning of August and after a conversation with employees I had hope for a 3-month visa. It took me more than a month to realise that I had no chance to have it. Waiting for regular, 30-days visa would be too long in Poland, so I went quickly to Turkey, where it took another week. In the end, I've started Zagros thru-hike on 1st October, a month later than planned.
Because of this delay I started Zagros thru-hike at the beginning of the rainy season. In November, after reaching the highest parts of these mountains, I had to fight against the early winter. Instead of wandering around the mountains and climbing 4 000 m peaks, I've faced frost at night and had to negotiate high passes, already covered with snow. It was also a tim when semi-nomadic shepherds started to migrate to the south, so the possibility of staying with them was limited.
The second reason was the equipment. It seemed to me that I was prepared for this trip, but the difficulties of Zagros had overwhelmed me many times. The solution for that would be simple: a larger backpack that could hold extra water and a warmer sleeping bag plus extra clothes that could save me from freezing. It sounds stupid, that taking an 80 l backpack instead of a 50 l and a warmer sleeping bag would change the whole expedition. But it's true. Unfortunately, the set I've been prepared for late summer and autumn, not the beginning of winter.
Unexpectedly, the clou of this expedition was a meeting not with nomads, but with ordinary citizens of mountain towns and villages. I spent many days and nights under their roof, learning about Iran from observations and conversations. These people showed me remote, provincional Iran, hardly visited by strangers. Shepherds, farmers, directors, tourists, craftsmen, parents and children, and even police interrogators who questioned me (yes, that happend!), taught me an unknown face of Iran.
Paradoxically, it was this delay in the expedition and insufficient equipment, that made me visit people more often than I expected. Such moments were an opportunity for countless meetings, conversations, hundreds of glasses of tea together. Walking lightweight had forced me to keep close to people, which gave me the most important moments of this expedition.
Equipment for Zagros thru-hike
The Zagros thru-hike was about 2300 km of walk through the desert and semi-arid mountains of Iran. Although we often associate the Middle East and Iran with deserts, it is mistake to call this country empty. Large parts of central and eastern Iran are indeed vast wastelands. Mountains are different, however. Big parts of them are watered by snow melting on the summits all year long. It's a fact Zagros are often stripped from forests, but they remain more diverse than European travelers think.
Zagros is a vast and diverse area. The conditions that I encountered were also varied. Autumn was hot in the north, in Iranian Azerbaijan and only a week later, in Kurdistan, I could walk in the rain. During the same day I could walk through the snow on a 3000-meters pass and sweat in the heat of the valley, 2 kilometres lower. Nights in the south Iran were hot, although just a week earlier I coud have been freezing on my bivouacs. In the provinces of Azerbaijan and Hormozgan I was seeking for water every day, while in central Zagros I had it everywhere.
In such different conditions I had to survive with a small set of equipment. What did I use on my way?
1. Backpack and camping equipment
Backpack – Marmot Apollo 50. A little bit to small for a long trek, but enough to put all my equipment in + food for 3 days + 4 liters of water. Lightweight but strong. Front opening made it very easy to access stuff without unpacking half of the contents. In the desert heat I also appreciated the possibility of installing the camelbag with water and drinking anytime during the walk. However, on the long distance it is suitable to carry up to 14 kg. Above this value, the hipbelt does not transmit enough load from the shoulders to the hips. The backpack turned out to be a bit too small for a longer distances, for example a 7-day sections in wilderness. Going again to the desert I would take a 70-75 l one.
Sleeping bag – Robert's Skaut 400. Quite lightweight (860 g), although not the lightest in its class. With 400 grams of 600 cuin duck down, it wasn't warm enough in higher mountains. The 0°C comfort was more than enough in the warm conditions of northern and southern Iran. During frosty nights in central Zagros however, I ended up shivering sleepless during cold nights. For the conditions I met, a sleeping bag with -5/-8°C would be sufficient.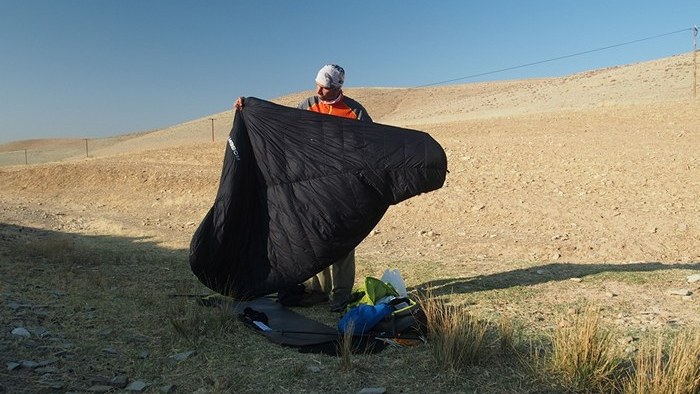 Shelter – a homemade 350 x 290 cm tarp, that weighted 400 g. Designed basing on the Tarp 10XP Hilleberg model, posiible to set up using 6 – 8 pegs and 2 treking poles. Excellent solution, giving sufficient protection against rain and sun, for a fraction of tent's weight.
Pad – to save weight I took a thin 3/4 mat. Sleeping wasn't always comfortable, but it worked well anyway.
2. Shoes
Low approach shoes Aku Rock II GTX. Prooved to be very good, endured about 2300 km in a surprisingly good condition.
3. Clothes
Marmot Cruz Pants – light trousers made of thin nylon – turned out to be very durable mechanically. Bright color reflected the sun well even during strong heat.
Long-sleeved linen T-shirt – very light and very cool in the heat, by Polsih company Kwark; unfortunately linen is not very durable mechanically.
Merino T-shirt – very light and warm Merino wool underwear, I worn it during cooler days.
The Marmot Dexter Plaid shirt – convenient when I visited homes and immigration offices and wanted to look better.
Marmot Caldus Jacket – lightweight and warm thermal layer.
The simple windshirt, to protect against the wind and occasional snow, used often as a rain jacket.
Buff – served as a cap, both on cold and warm days.
Socks – I took 4 pairs of socks, each made of different material. The best ones were Nordhorn Tactic, my warmest model. On colder days and nights (and there were many of them), they've keep my feet warm. The remaining pairs, made with coolmax, died before reaching the Indian Ocean.
Hat – TechNiche Hyperkewl Ranger Cap. Thanks to the special cooling fibres inside, it cools the head and brain when soaked. The manufacturer estimates a cooling time of 5-10 hours, although in the desert heat of Iran it was rather 3-5 hours. It did, however, work very well, guaranteeing me a "cool head", reducing sweating and the need for drinking water.
Gaiters – Inov8 Debris Gaiters were extremely useful, so I don't have to stop every quarter of an hour to shake sand and gravel from my shoes.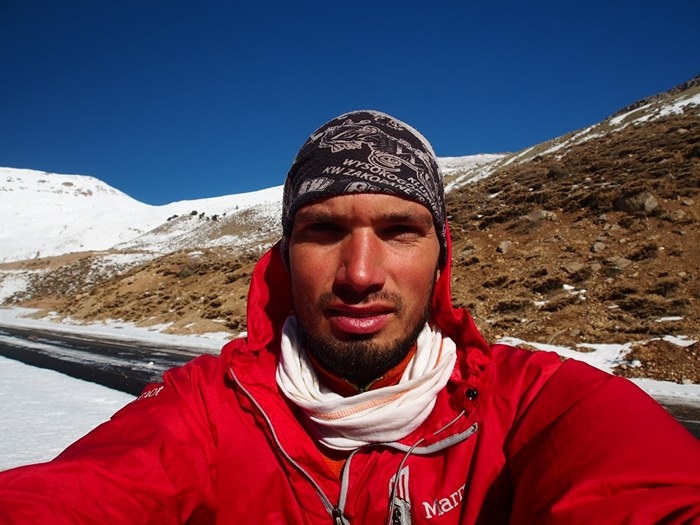 4. Cooking
A steel, 1-liter cup, spoon, knife and 2 lighters.
As a stove I've udes Optimus Crux. Small and light, but with a serious drawback: its flame was unstable and sometimes extinguished for no reason. I've burned Kovea 230 g propane/butane mixture, which I bought in Kermanshach and used it for next 3 weeks, i.e. in the highest and coldest areas. On the north and south of Iran I purified water instead of cooking it and took food that did not require cooking.
5. "Hardware"
Trekking poles – no-name model, once received as a gift. They were necessary at this distance and also served to set up the tarp. I did not expect them to reach the ocean, but one of them succeeded.
Sunglasses – Julbo Colorado. A model I use for years in the Tatras, Alps and Himalayas. The best I know.
Water transport (1) – 2 l camelbag. During the day it made possible to drink without stopping.
Water transport (2) – 10 l MSR Dromedary Bag. I expected to take water for 2-3 days inside, eventually I've used it rarely, mostly to transport water from a nearby source to a camping site. Having a bigger backpack would allow me to pack and carry my Dromedary bag with 3 days supply of water.
Water filters – Sawyer Mini and Lifestraw. I used almost exclusively Sawyer, which, thanks to its flexible bottle, is more versatile. The Lifestraw spent most of the time in my backpack, except for a few times, when I drank water directly from a puddle or stream. The filters turned out to be effective, the sickness caused by bad water hit me only once, perhaps due some virus.
Waterproof bags – JR Gear 5 and 8 litres. The larger one I used for sleeping bag, smaller one for clothes and electronics; both of them protected the equipment very well.
Cord – I took a 20 m 0.9 mm climbing cord. It was to be used to strech the tarp overnight and to repair the equipment. In a critical situation, I used it to lower the backpack down during the descent of the dangerous rock wall.
Headlamp – Petzl Tikka. The light it gives is not great, but sufficient during the night hike. Plus 9 AAA batteries – 3 sets, which were enough for 2.5 months of the headlamp's operation.
Notebooks + pen.
First-aid kit – elastic bandage, dressings and plasters, set of painkillers and stomach medicines, multivitamin – 60pc., latex gloves.
6. Electronics
Tablet – lightweight (250g) and small 7″ model. Used to write and browse photos. Unfortunately, after 3 weeks, the touchscreen refused to work and the case felt apart. This ended it's work completely.
SPOT 2 commmunicator. Lightweight device, that allowed me easily to send your position back home. It worked almost always, apart from the moments when I was among the buildings and dense trees, where a large part of the sky was covered.
The Samsung GT-S5360 lightweight and old mobile phone, worked longer on a single battery than many modern smartphones.
Powerbank – Sailing 6, powerfull 20800 mAh model. With 450g it was like a small brick in a backpack, but it turned out to be very useful when I was disappearing for many days in the mountains and I was unable to charge the batteries in my camera and phone. For me, a power bank that is twice as small would be enough.
USB charger for all these devices.
7. Documents and money
Passport and national ID.
Money – remember, that VISA and others cards are not working in Iran, so your payment cards will be useless. I used them on my way through Turkey. I entered Iran carrying 1400 USD and exchanged cash in banks and exchange offices along the way. I used hidden pocket under my clothes for carrying documents and money, especially in cities.
Visa – I entered Iran with normal tourist 30-days visa, which I extended twice. If you want to do the same, head to some bigger city, the capital of the province and find police station, which handles foreigners affairs. It will cost equivalent of about 10 USD and take about 6 hours to have your visa extended for the next 30 days. It's possible to perform that procedure just twice, which gives you a possibility of staying in Iran for up to 90 days for very little extra cost. I extended my visa in Kermanshach and Shiraz.
8. Photography
Olympus OM-D EM-5. Mirrorless camera with exchangeable optics. Much lighter than a DSLR, so the weight of my photographic equipment dropped dramatically during this expedition. After this journey I found out mirrorless to be the only camera good for my long distance trips.
Lenses: Zuiko 12-50mm f/3.5-6.3, Zuiko 45mm f/1,8 (wide and sharp lens, yet very small and light), Samyang 7.5mm/f 3.5 (fish eye) and Olympus 40-150 mm/f 4.0 – 5.6 with Micro 4/3 adapter.
Batteries (4 pcs.), tripod (SLIK Compact II, for self-portraits and long exposures), filters, USB charger and memory cards: 1 x 64 GB and 2 x 32 GB.
9. Navigation
First thing first: there are no good maps of Zagros. In fact you cannot find Any maps of this mountains these days. However there is one thing that will save you, if, by accident, you would like to follow part of my trail. All Zagros ranges are covered with Soviet topographic maps 1:200.000. I used about 40 pcs, downloaded from loadmap.net server and printed in A2 format. They are old, usually from 1970-1981, but are also the only source of information. The shape of the terrain is usually presented correctly, but the heights of the summits are often wrong and the details are not precise. It's worth to use them with caution. The 1:200.000 scale is suitable rather for experienced hikers.
I also used a map of Iran 1:1.500.000 from German editor "Reise Know How". Printed on plastic instead of paper, it's durable, waterproof and very useful. "RKH" is my favourite map series, I use them often on my trips.
Silva 9 compass – small and simple, enough for basic navigation.
From the perspective of the 76 days hike, what would I ad to this equipment?
Larger backpack – preferably 70-75 litres. If I had to change just one piece of equipment, it would have been this.
Warmer sleeping bag, with comfort at temp. -5/-8°C.
Lighter trekking poles, e.g. Black Diamond Trail.
Small GPS – in Zagros it would be useful, due to the lack of clear landmarks and the poor quality of the old maps.
I would only take one water filter, Sawyer Mini.
Leave the tablet but take better phone.
Smaller powerbank, to save some weight.
Considering that Zagros thru-hike was also my first trip through the desert, I did not make too many mistakes. The biggest lack was a backpack that was too small to stay away from civilization for as long as I wanted. Most of the rest worked well.