Before going to Iceland, food was my no. 1 topic, and its cost was to be the largest part of my budget. Additionally, having no supply points inside the interior, I decided to carry the entire supply on my back at first. This nearly finished my trip at the start: 30 kg of load didn't allo to walk normally. I've quickly understood my mistake and decided to send some of the food "forward", so that I could pick it up on the road. A made a short research and things turned out to be easier than I thought.
Food from your country?
First of all: don't bring all the food from your home. It is not worth it and may cause you troubles.
The theory says that max. 3 kg of food can be brought to Iceland. More than that can be confiscated. In practice, there is little chance of control, but … it safe than sorry. I took some supplies from Poland. Mainly nuts (in Iceland peanuts and cashew nuts are relatively cheap, others cost a lot), instant buckwheat flakes (my basic ingredient for evening meals), some cheese and coconut milk powder (for breakfasts). It makes about 10 kg. At the Keflavik airport I went to the window with the inscription "goods to declare".
– Good morning, I would like to report my expedition food.
– And much you have?
– 6 kilos – I lied.
– Cool, don't worry.
I could have my backpack stuffed with food. Nobody checked that. However, random searches are said to happen and then, if you have more food than allowed, you can lose it and pay a fine. My advise is: take only what's not popular and expensive in Iceland and have max. 5 kg. On Iceland you can find 90% of the products you need, without any problems.
Purchasing food in Iceland
The best points of supply are supermarkets in large cities. Prices in Iceland are often said to by exorbitant, but it's not true. You will buy basic products at prices higher than, let's say Polish, but similar to those in France or Switzerland. Choose cheap places: first of all "Bonus" (who invented this pig-on-acid logo for them?!), than "Netto" and "Kronan". They all will be sufficient. Interesting detail: the cheapest products are often those imported from the UK.
In Iceland I've eaten classic "mountain" food, similar to what I took for long distance trips in Europe. My sample menu was as follows:
Breakfast – granola flakes with coconut milk powder and nuts.
Daytime snacks – chocolate, nuts, muesli and caramel bars and other snacks.
Dinner was the most important and richest meal, based on buckwheat flakes or potato purée with tomato sauce and meat. I add canned fish (tuna and mackerel). I also tried dried fish, sold in vacuum packages. It consist 80% proteins, being a great source of them. When opened, it smells, hmm… curious , but when cooked it loses its characteristic smell.
Walking across Iceland from east to west took 4 weeks. 3 weeks only I spent inside the vast interior. I experienced how quickly the difficult terrain and weather drain your physical power and mental force. In such conditions, it's worth taking care of a varied diet. I regretted a little, that I didn't take any freeze-dried food. It would diversify my diet and cheer up a little. Of course, they are not necessary for survival. But if you can, I recommend taking a few tasty meals just to make your day better now and then.
Apart from Reykjavik, you will find well stocked shops in the larger cities: Akureyri, Borgarnes, Kevlavik, Akranes, Stykkisholmur, Egilsstadir, Hofn, Holmavik, Isafjordur, Budardalur (the latter slightly smaller but still OK). There are no shops inside the island and you need to be self-sufficient to enter there. Even in shelters you won't buy anything to eat. In theory, it is possible to order something in advance in some huts, but don't count on it. It's best to assume in advance: you won't buy anything in the interior.
Deposits of food
So do you need to carry ALL your food across the island? Fortunately – no. What can be your great help, are shelters that you pass along the way in the interior. They offer you the opportunity to send some food and to pick it up when you arrive there. The shelter staff doesn't charge any fee for storing the package.
The service is "purchased" from the local bus company Reykiavik Excursions. On my way across Iceland I started with carrying all the supplies on my back. The spinal injury showed how stupid the idea of having 30 kg in the middle of volcanic desert was. I came back to capital, put some food and fuel in two parcels and send them "forward". The first one was carried for free by a local driver, who deposited it in a rangers hut in Jokulsa-a-Fjollum valley. The second one has been sent by bus to the Nyidalur, small hut, located almost in the middle of Iceland.
How does the shipping procedure work?
Pack a portion of food/fuel/other items in a package or solid bag with your name, surname and telephone number.
Go to the BSI bus terminal in the center of Reykjavik, where Reykjavik Excursions buses leave. These strange, off-road vehicles cross the highlands from south to north, across the whole island and also pass through the shelters along the way.
At the ticket office pay a fee for the shipment (in 2016 it was 3500 crowns for package, size doesn't matter).
With the proof of payment go to the driver of the correct line and ask him to take the package to its destination.
Tricky part starts here. In theory, the driver is not responsible for what you give him. His task is to arrive to the place – and that's all. So make sure that the shelter staff know about your your package and will pick it up. To do this, call them (you can find the number of any shelter in one of the guidebooks in any tourist information) and tell them, that you are sending the package and whether they can pick it up from the bus.
Check the timetables to see when your bus stops at the shelter. Call there again at the scheduled time and kindly remind rangers that the shipment has just arrived.
After all these hassle, start your traverse of Iceland. After you will reach the right shelter a guard (usually a nice, young and a little reticent Icelandic woman) will handle you your package. Now you can enjoy the chocolate that you sent to yourself a few days earlier!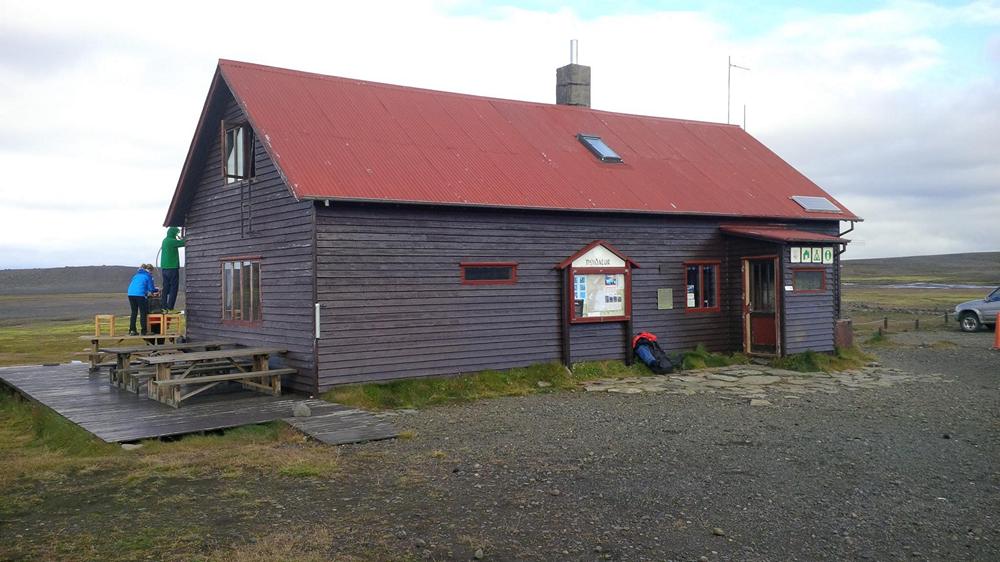 Where can I send my deposit?
There are several places on the routes across Iceland, where you can pick up your package. It means that you can send your food and gas reserves to more than one place. The monthly traverse through Iceland can be done by carrying the backpack for only 5-8 days.
Examples of scenarios could be as follows (remember, those are just examples, that you can modify):
I.North-South traverse
Let's assume, you are planning to start somewhere on the far north of island and walk towards southern tip of it.
While in Reykiavik, send your food deposit to two places: Nyidalur and Landmannalaugar. From the capital, take the bus to Reykjahlid at Lake Myvatn. From there you ask bus company to send the 3rd deposit to the Dreki hut. The 4th one you hide somewhere in the area of the town. You go to the point of your start and than…
You start your traverse in the far north with food for a 4-5 days. After this time you reach Reykjahlid. There you find your first, hidden deposit and start walking towards Dreki, under Askja volcano.
You are in Dreki after the next 5 days. There you can collect deposit no. 2 and go towards Nyidalur.
After another 4-5 days you arrive to Nyidalur hut. You take deposit no. 3 and continue crossing highlands heading south.
Another 4-5 days and you will reach Landmannalaugar. This is where you pick up the last package of food. Few days later you reach the south coast.
II. East-west traverse
If I had been smarter while organizing my Iceland traverse, my deposit plan would have been as follows:
From Reykjavik I send my 8 days food supply to Nyidalur shelter.
I take the bus from the capital to Akureyri. The bus, which is important, has a 30-minute stop in the village of Stadarskali, at the base of huge West Fiords peninsula. The village consists, by the way, of one petrol station and nothing else. Here, somewhere among the rocks, I hide small food supply for 2 days. Otherwise I will rely on petrol station, which is well stocked, but not cheap.
I arrive to Reykjahlid, on Lake Myvatn. From here I send my food deposit, for 4-5 days, to the Dreki hut.
The next day I catch a bus to the main town of east Iceland – Egilsstadir. In its vicinity, near the main road no. 1, I hide my food deposit for 5 days.
Finally, I go to cape Gerpir, from where I start on the main traverse. And this is where magic begins:
2 days after leaving the Cape Gerpir, I reach road no. 1, where I collect the deposit hidden before. I enter the Iceland's interior with it. After 5 days I reach the Dreki hostel.
In Dreki I pick up next deposit and start walking towars Nyidalur.
In Nyidalur I take my biggest 8-day deposit and start walking west with it.
In Stadarskali I find my small deposit, which is enough for me to get to the nearby town of Budardalur.
In Budardalur, I buy food in the only supermarket in the area. Having enough food for 7 days, I easily reach the end of the Western Fiords.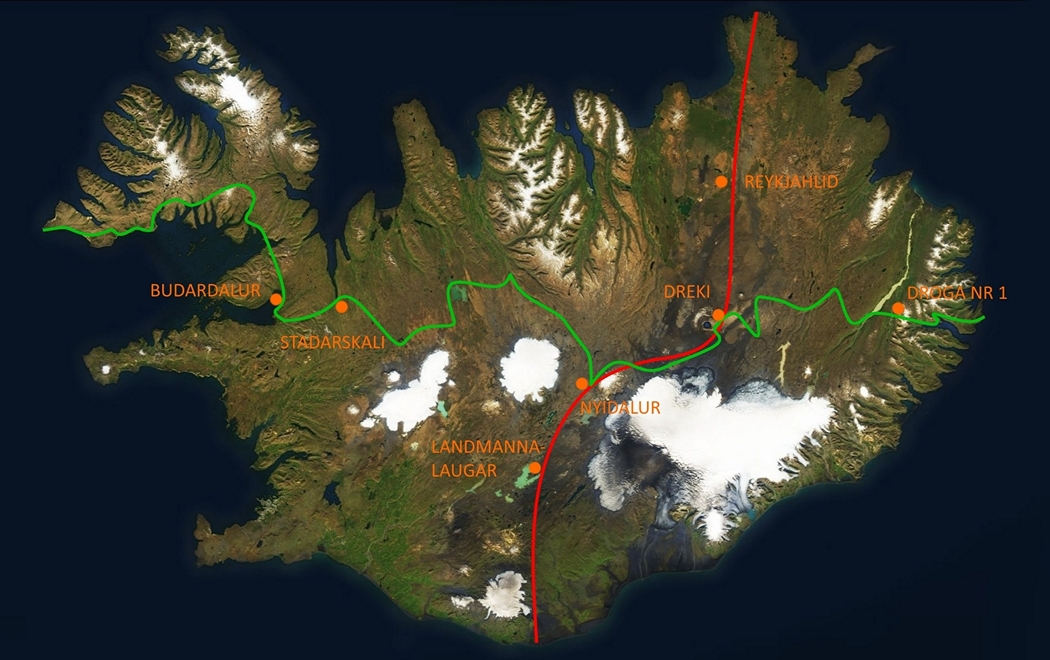 The result? No matter which route you choose, you never carry food for more than 8 days. And it's a worst case, because most of stages will be even less, just 5 days. The cost of such an operation is the price of two shipments and an extra day of travel. Profit – much lighter backpack, more comfortable, faster and more enjoyable trip.